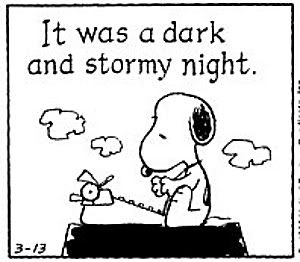 It Was A Dark and Stormy Night…
By Shay MacLean
So, I sat down tonight to work on my current WIP (Work In Progress--for those of you not familiar with the term) and I realized that I had a couple of guest blogs to write…and no clue for a topic. I sat for quite a while racking my brain for a topic to use.
Nothing.
My eyes wandered aimlessly around my office, taking in my collection of dragons, my Tardis USB hub, miniature trinket box that looks like Minas Tirith from Lord of the Rings, and finally stopped on my puzzle.
Depicting Snoopy sitting on his dog house with his typewriter, studiously pounding the keys, a thought bubble above him with the famous writing prompt… "It was a dark and stormy night…"
Those words are an inspiration to me and if I'm not mistaken to a lot of other writers as well. They aren't new by any means, but they were made famous by one of my favorite aspiring authors…Snoopy.
Whenever I need to think of a new idea for something, I often look to writing prompts for inspiration. Okay, I admit it I'm a writing prompt whore. I actively search them out all the time. Just the other day I downloaded Story Starters by Clifford Fryman to my Nook. Let's face it as writer's we're sometimes too stressed over a current project or too eager to continue with one that when it comes to creating a blog post we often draw a blank.
Especially, when our muses and/or our characters are screaming at us that we need to finish their story or begin a new one. The appeal of doing one of those is often much more desirable than writing a blog. Not to all writers, but a good majority of the ones I'm friends with cringe when the word blog comes up in conversation. Me included.
Which makes the fact that I started my own blog even more spectacular. I'm still figuring out what kinds of posts I'll be doing on it and I hope to have a schedule ironed out soon.
In the meantime…I'm thinking of making one day a writing prompt day on my blog. So in preparation for it, I'd like to propose a challenge. Take Snoopy's writing prompt and finish it as the first line of a new story. If you feel like going past the first line, run with it. Here's mine…
It was a dark and stormy night, the wind howled through the trees that lined the side of the road, buffeting Sati's car, whipping it from side to side like a toy. Why had she agreed to go pick Devi up in this weather? She should have told her sister to just stay the night at her friend's house. It didn't help that she'd been having strange dreams revolving around storms lately either. The shadowy image of the extremely well-muscled man that had been stalking her in them drifted to the surface of her mind. He always emerged out of the rain to claim her…in every way…
Now it's your turn. =D
Thank you, Gracen, for having me as a guest here. I really enjoyed writing this post.
Until we meet again….
Shay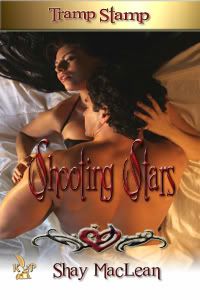 Blurb

Dr. Wilhemina Brock prides herself on her ability to keep her private life with her husband Schyler just that – private. But when Keenan, the new nurse on staff, catches a glimpse of her tramp stamp, she's coerced into spilling the story behind it, revealing how she broke the student-professor boundaries and hooked her husband.

Excerpt

Dr. Wilhemina Brock glanced in the mirror on the door of her locker. She frowned at the tight braid she'd twisted it into that morning. She reached up and released the clip holding it in place then shook out her long raven tresses. Soft wispy locks curled around her shoulders, sending shivers of pleasure dancing on her skin. Much better. Smiling to herself she grabbed her black t-shirt and started to pull it over her head.

A whistle sounded from the door. "Damn, that's sexy." A very masculine voice said.

Willa spun around, tugging the hem of her shirt into place. Keenan Fergason. The newest addition to the nursing staff. His muscular build, rugged features, reddish brown hair and sparkling green eyes had everyone lusting after him. She could feel the blush that stained her cheeks at his continued appraisal of her. "I don't know what you're talking about, Keenan. I've gotta run. I'm meeting Schy for dinner in half an hour." She reached up to stuff her lab coat into her locker and felt the bottom of her shirt raise above her low cut jeans.

"I'm not letting you leave here until you give me the dirt on that sexy tramp stamp you're sporting there, Dr. Willa," Kee said.

She glanced over in time to see him wiggle his eyebrows as he said the words tramp stamp. Shit. Just what she needed. News of her guilty pleasure traveling all over the hospital as she was finishing up her residency.

Links
www.shaymaclean.com
http://scorchedsheets.blogspot.com/2011/04/welcome.html#comments


Buy link
Dreams N Fantasies
Wicked Ink Press

Publisher link
http://www.keithpublications.com/

Author Info

Shay has been writing most of her life. As a teenager, she focused mainly on poetry, but still dabbled in writing short stories. She didn't find her niche though until she started listening to the characters in her head whispering about the dark and sensual worlds to be explored in erotic romance. Now when she's not engrossed in a great read, she listens intently when her muse murmurs seductively in her ear. She also enjoys photography and graphic design. And although she isn't an artist by any means she designed the tattoo featured in Shooting Stars. When she's not writing she enjoys reading and spending time with her family.

You can contact her at shay@shaymaclean.com or on her Facebook Page.