Welcome Author


Sapphire Phelan!!!
We haven't been around that long, but I'm always amazed, and appreciative, when an author seeks me out for promotion on this site. I really do love that. I just wish I wouldn't have such a one-track mind. I had booked this author over two weeks ago. Fine, great. So what happened? I opted to do a "How many books can read in 30 days" challenge (one I made up myself because I haven't been reading as much as I'd like), and while in the midst of this challenge I got an idea for a Romantic Suspense. That in itself wouldn't be so bad if I could focus on one book at a time and finish them lol! Anyway, I got inspired for a little bit more in my Romantic Suspense last night and completely forgot that Thursday meant more than dinner with my parents and disc golfing with my husband. I slept most of the day away. I wake up at roughly 4pm (yes, you read that right) and realize that I had a blog to post today. So, needless to say, I've been scrambling around trying to get all the pieces together.
I haven't had much contact with Sapphire. Funny thing is, I thought she was someone I've known on facebook, lol! Must have something to do with her last name, lol! Even though she's not the person I thought she might be, she's still the author of her latest release, Ain't Nothin' Like Succubus Lovin'. Gotta say, I love that title. It makes me chuckle every time I see it because I'm not used to seeing bad grammar in a title, lol! If you're anything like me, you'll find yourself thinking of the title whenever you hear the song, "Ain't nothin' like the real thing baby..." or any other time you hear the words "Ain't" and "nothin'" next to each other.
Ain't Nothin' Like Succubus Lovin', an erotic short, startled me more than anything. Due to the overwhelming number of updates and such that I get in my email inbox from Facebook and chatgroups, some emails tend to get lost, that is until I go searching for them, like I did today. I never saw the email with my arc until today, so I haven't had a chance to read it completely. However, I did glance at the first page, and that's where I was startled.
How so? Well, as this is an erotic short, I half expected - okay more than half - to find a sex scene right off, but what I found there was very intriguing! A man deciding to perform the ritual to summon a sex demon from A Dummy's Guide to Demon Summoning! Needless to say, I will be reading this one later tonight when I have time to savor the story! Until then, let's get to the interview!
ME: Almost anywhere you go in the US, Independence Day is celebrated with parades, firework displays, cookouts and music – sometimes on July 4th and sometimes earlier depending upon what day of the week the 4th falls on. What celebration plans are going on in your area, and when will they happen?
SAPPHIRE: There's fireworks given by Comcast Cable and the County I live in, fireworks after the Flying Squirrels baseball game, many other fireworks, a parade in Ashland, Virginia, reenactments of the what led up to the Revolution in Colonial Williamsburg, and other historical reenactments. Basically the same kind of things.
ME: What kinds of festivities would a traveler find at this celebration? What sights, sounds and smells might he or she encounter?
SAPPHIRE: At Colonial Williamsburg, men and women in Colonial costumes acting out scenes leading up to the Revolutionary War. Elsewhere, sounds of a baseball game going on, fireworks blazing in the night sky, smells of barbecue, etc...
ME: What about you and your family? What plans do you have for celebrating Independence Day?
SAPPHIRE: My husband is on call for his job, so we're staying home and grilling.
ME: Is there any favorite treat that you must consume during an Independence Day celebration?
SAPPHIRE: Yep, burgers and hot dogs! LOL And of course, for dessert, strawberry shortcake!
ME: In many areas, people like to purchase their own fireworks and set them off – snakes, bottle rockets, and sparklers among others. What's your opinion on fireworks – take them or leave them? Which ones are your favorites?
SAPPHIRE: Don't do much fireworks—even if legal here to do. I like watching the fireworks done up the street from our front porch (yes, we can see them). But as a kid, my favorite was the sparklers.
ME: A day some might consider as equally important is Bastille Day on the 14th commemorating the storming of the prison fortress, Bastille, in 1789 when the French people stormed the fortress, putting an end to "the tyranny of King Louis XVI's monarchy". Celebrations are beginning to be held in major cities across the country celebrating French history. One of the largest celebrations in the country happens in Milwaukee, WI (4 day long festival beginning with a re-enactment of the storming of the Bastille, complete with a 43-foot Eiffel Tower replica) a tradition starting 27 years ago makes it one of the city's oldest festivals. Is Bastille Day celebrated in your area? If so, how? What sights, sounds, and cuisine will travelers stumble upon?
SAPPHIRE: No, it is not celebrated in my area.
ME: Are there any other festivities that take place in your area that a traveler might enjoy local culture and traditions? If so, what are they and where would a traveler go to find them?
SAPPHIRE: Colonial Williamsburg, Yorktown and Jamestown are about hour and half away. In Richmond here, we have a lot of museums, Civil War battlefields, Carytown (where there's shopping, the oldest movie theater still showing second run films, and eateries—all in an unusual, cool street to do it), Maymont Park, and the beach isn't far away, there's Chincoteague Island where the ponies are , about four hours away, and the mountains in the western part of Virginia (where you can find one of the coolest tourist attractions—Natural Bridge!). Really, a lot of stuff.
ME: We've had our fun now, so let's put the focus on your writing. While there are many genres to choose from, what specifically brought you to romance? Why this genre over the others?
SAPPHIRE: I like reading it and when it looked like paranormal romance had taken off, a perfect choice for me to write. I'm a sucker for happily ever after.
ME: Even though the popularity of the romance genre continues to grow, it's still not always a highly respected genre. What, in your opinion, is the reason for the continued interest in the genre and for the lack of respect it receives?
SAPPHIRE: Readers want a happily ever after, as with mundane lives, where you never know what may happen (like war) and romance gives it to them. People equate maybe sex and even not plot much of to romance, which is wrong. There are many well-written romances out there.
ME: A holiday we didn't discuss above is Parents' Day. What traits, in your opinion, make for a good parent? Have any of these traits, been inspiration for a character's personality and actions in your stories? If so, how? Which character(s), which trait(s) and why?
SAPPHIRE: One who listens to their kids and who tries to show them how to live their lives right by example. One who tries to do the right thing, no matter the consequences. To accept who you are. I would say the last two; at least I hope my characters try to. Like Tina in Being Familiar With a Witch—when she finally accepted letting Charun make love to her to become the witch destiny meant her to be.
ME: For a writer, inspiration can be found everywhere and in almost anyone, but sometimes specific people, places and events can inspire certain characters, personality traits, events or situations that happen in our stories. In your current story that we're promoting here today, Ain't Nothin' Like Succubus Lovin', did any one particular person, place or event inspire you? If so who/what was it (were they), how did it/they inspire you and how is this inspiration reflected in your story?
SAPPHIRE: Strangely enough, I don't think any one person inspired me for Ain't Nothin' Like Succubus Lovin'. I hope my two characters, Jordan and the succubus, Elianta, are a combination of all the people I have met in my lives.
ME: Without giving away anything pertinent to the story, tell us about the hero and heroine (s) of your story. What do they look like? How do they meet (or "did" if this is not the first book with these same characters)? What are their personalities – Are they comical cut-ups, are they serious or are they a mix of the two? Please give us a little bit of dialogue from the story that can illustrate this. (Not much, but just a few lines and from a different section than the main excerpt – Thanks!)
SAPPHIRE: Elianta: As a demon, she has skin the color of green grass, blood-red eyes with no pupils, and obsidian horns that curved out of long black hair that flowed down from her head and streamed past the shoulders to the small of her back. In human form, she is very lovely.
Jordan is an ordinary guy and forty-something. They meet when he borrows A Dummy's Guide to Demon Summoning from a friend to summon a demon for a one-night stand after disappointments in dating and his failed marriage. She's the one who answers the summons.
"Sorry, but demons are not known for being sweet and kind. Besides, it's hard for me to understand why someone, especially a man, couldn't find someone, somewhere, in this day and age to dip his wick in honey. When I was mortal, and even with the Church breathing down my neck, I could always find someone to do it with. Damn, but that's a shame."
"Okay, so then you'll do it?" asked Jordan. "It's a deal?"
ME: The main characters are usually great, but sometimes, secondary and tertiary characters are known to steal the scenes, even if the author did not intend this to happen. Who are the secondary/tertiary characters in your story and what do they look like? What's unique about them? What is their relationship to the hero/heroine? Have any of these characters gone on to become scene-stealers? If so, who and how did they do it? Is there the possibility for them to get their own story? (Again, please give us a small bit of dialogue to illustrate this – thanks!)
SAPPHIRE: One that I had some people say they liked was the Devil, because he appeared to Elianta and Jordan as a little man wearing a neat suit of blue, double-breasted—looking not unlike the little book geek in the Twilight Zone episode where it was the end of the world and he was the last human on Earth.
[Could it also be because of the Duke Blue Devils??? lol!]
Jordan held her closer and lifted up his chin. "She's staying with me this time and is not going back to Hell. I love her, and there's nothing you can do to me that hasn't been already done."
"Really? How about having you chained to two large trucks, both roaring off in opposite directions?" asked a little man who popped in without ceremony. "Or have a Jehovah's Witness talking nonstop to you, with no escape from him, ever?"
Jordan's eyes narrowed. "So you're the Devil?"
The little man smiled. Every tooth gleamed brilliant and white, perfect in every detail. He wore a neat suit of blue, double-breasted "Why, yes I am. Am I not impressive?"
Jordan snorted. "Not really. You look like that meek little bookworm in that one Twilight Zone episode, the one who ended up the last man on earth and broke his glasses and couldn't read all the books he finally had time for. "
"What did you expect, that myth of horns, a tail, and a pitchfork?"
Curious for more? Let's Check out the blurb and excerpt: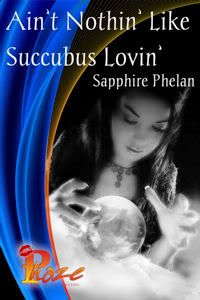 BLURB: Finding a date was never more hellish. When Jordan Hudson borrowed his friend's A Dummy's Guide to Demon Summoning and called up a succubus, he found that dating and making love to a minion of Hell proves to be more than a one night stand.
EXCERPT: With a groan, Jordan released her arms and stormed to his closet. He dug out a pair of jeans and a T-shirt and dressed. Hearing a sound behind him, he whipped around and found Annie, looking confused and, if he didn't know better, a little hurt.
"Why are you getting dressed, Jordan?" she asked in a petulant voice.
"Look, you're free. Just take off."
He padded downstairs and could hear her following closely behind. He flung himself onto the couch and, after grabbing the TV remote off the coffee table, clicked on the television. She sat down next to him and he tried to ignore her and the enticing scent of arousal that wafted from her. When she placed her hand on his arm he ground out an oath and clicked off the TV, flinging the remote across the room. It crashed against the wall, shattering.
He jumped up and turned to her. "Just what the hell do you want? I said that you're free." He crossed over to the front door and threw it open. Still nighttime, the only sounds came from crickets chirping and the occasional roar of a car on the street. He pointed his finger at the threshold. "There. Now get, skedaddle!"
His finger drooped as much as his penis had deflated earlier. He wanted to rush to the couch and pick her up, then throw her out the door if need be, but he paused as sounds of crying came to him. He turned and saw it was Annie. Not delicate little tears, but big, ball-busting ones that echoed in the room. He maneuvered back to the couch and dropped down next to her. Gathering her into his arms, he patted her on the back, cuddling her and making cooing noises.
"Hey, what's all this? You're a demon, and I thought demons didn't cry or act wimpy."
She pulled away and looked up at him, her face red from the crying.
"Look, I admit I enjoy being a wicked, beastly succubus. Before that, with the exception being Thor, having sex with all kinds of eager men was great, but after a thousand years it's become monotonous, the same old thing over and over again. I'd like to settle down and do…normal things."