There's a contest announcement at the end of this interview, so be sure to stick around!
Before we begin, I must remind everyone of the Moonlight Mistresses boring rule to please try and keep your responses to a PG13 atmosphere – *eye roll*. However, they haven't seemed to care about double entendres, so let them fly!

My guests today are, Sheriff Reed Bennett and Marly Hanson from Dreyerville, Michigan. Their tale can be found in A SONG FOR MY MOTHER, a novel creation by Kat Martin.
Flora: Thank you Reed and Marly for joining us today! Please, Reed, tell our readers how you two first met. Was it by your design, or hers?
Reed: I live a house next door to Marly's mother. We met when Marly came home to visit after she had run away from home twelve years earlier.
Flora: Marly, would you say it was love at first sight or did you find him repulsive?
Marly: Reed is a good looking man, smart and caring. I was attracted to him the first time I saw him but I didn't want to get involved in a relationship with a man who lived in a town I hated.
Flora: Since chaotic happenstance tends to put characters like yourselves in situations where they must work together or live together for one reason or another, tell us what chaotic happenstance "forced" the two of you to work or live together. How did you both feel about this?
Marly: Since Reed lived next door, my daughter Katie and Reed's son Ham became good friends. I had to be nice to him--though I didn't really want to.
Reed: I was taken with Marly from the moment I saw her. I didn't like that she and her mother barely spoke. I wanted to see them rebuild the bonds that I believed the two really felt for each other.
Flora: Reed, would you say that your relationship developed easily or would you say there was some reluctance? What kind of obstacles were there?
Reed: Plenty of resistance from Marly! She was pretty much a man-hater. And her little girl was just recovering from brain cancer, so she really had her hands full. I had to be VERY persistent.
Flora: How long did it take you to know your true feelings for the other? At what point did you know, "this is the one"?
Marly: I distrusted Reed from the moment I met him. Then someone told me he was seeing another woman and was only trying to use me. When that turned out to be a falsehood, I began to trust him and then I was falling in love.
Flora: This is for either of you. Would you like to thank anyone – other than me, of course – for getting you two together?
Marly: My mom got us together. She wanted me and Katie to move back to Dreyerville and she believed Reed was the perfect man for me.
Reed: Ham and Katie did a lot to bring us together. They are two really great kids.
Flora: As we are celebrating fertility and offspring this month, tell us, Reed and Marly, do you plan on having children in the future? Why or why not? How many do you think you'll want? Do you prefer sons or daughters, or does it not matter?
Reed: I definitely want kids. My first wife died and I love Ham so much. I'd be happy to have a house full.
Marly: I never thought I wanted more children till I saw Ham and Katie together and realized that having more children meant a lot to me. Reed wants them, too, so we are definitely having more.
Flora: Do either of you garden? Why or why not?
Marly: Now that I am back in the country instead of the city, I hope to do a lot of gardening.
Reed: think I'll just sit back and enjoy Marly and how pretty she looks out there with the flowers.
Flora: Typical of most men. *laughs* What are your favorite flowers or plants? What significance do they hold for you?
Marly: I love roses. They are just so romantic.
Reed: I like snap dragons, a real man's flower.
Flora: I find red rocket snap dragons to be the heartiest variety with the deepest hue of red! Thanks so much to Reed and Marly for joining us today! Now, I'd like to take some time to speak with their author, Kat Martin. Thanks for joining us today, Kat.
Kat: Very nice to be here.
Flora: First, I'd like to start with some of the questions I asked Reed and Marly. Do you garden? Why or why not?
Kat: I'm afraid, being a workaholic, I have zero time to garden. I do however love flowers and almost always have fresh flowers in my house.
Flora: Do you prefer vegetables and fruits, flowers, or both? Which ones are your favorites?
Kat: Like Marly, I love roses – pink and yellow are my favorites. I love strawberries and peaches.
Flora: If you had the chance to do so, would you participate in a community garden? Why or why not? (If you have done this before, please share your experience!)
Kat: My husband does the gardening in our family. We usually have so many veggies in the summer we can't eat them all!
Flora: Quite a difference from Reed! *chuckles* Flowers, trees and plants offer a variety of aromas. What would you say is your favorite aroma and why?
Kat: Strawberries and peaches smell great. Lilacs and jasmine are marvelous.
Flora: A growing trend these days is to grow tomatoes, cucumbers, eggplants, beans and peppers upside down while growing other smaller plants like lettuce, radishes, cress or herbs on top. Is this something you'll try or have done? Why or why not?
Kat: I bought my husband three of those upside down tomato plant growers. He could never get tomatoes to grow and that year we had big fat juicy ones.
Flora: Considering your favorite flower, plant, and/or aroma, have these tastes shown up in your writing? If so, how – If not, why not?
Kat: Roses show up a lot. I wrote two books -
The Silent Rose
, and
Scent of Roses
- that had them in the titles!
Flora: I'm sorry folks, but that's all the time we have for today. Thanks to Reed and Marly, and their author, Kat Martin for joining us today and giving us some great answers. We hope you'll check out their story, A SONG FOR MY MOTHER.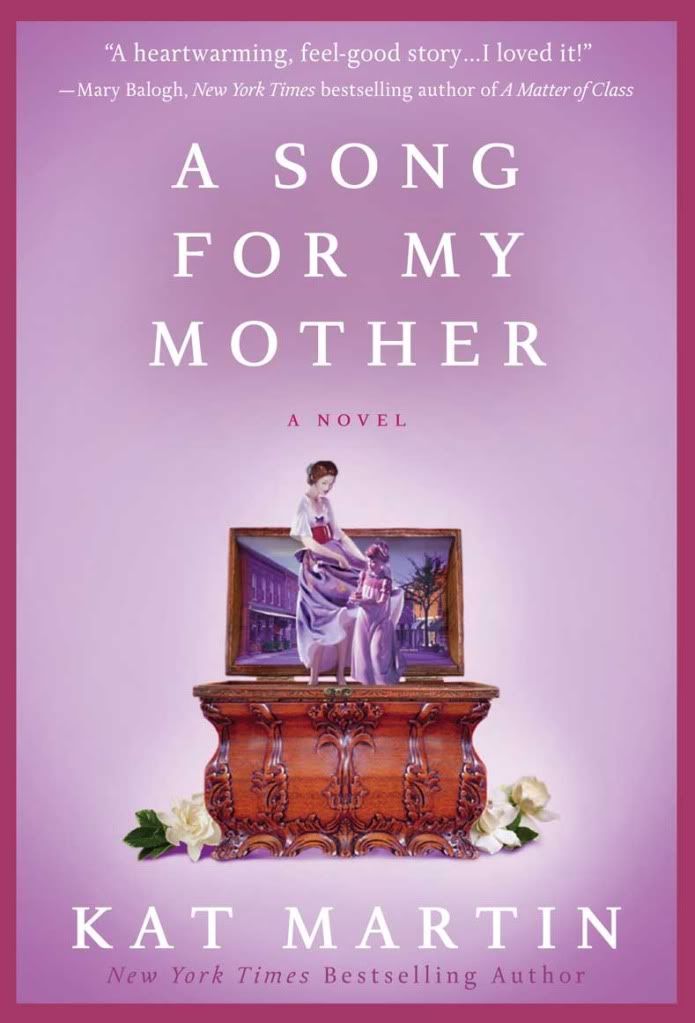 BLURB: Years after running away with her boyfriend in her junior year of high school, Marly Hanson returns to Dreyerville at the request of her daughter, Katie, who has recently been treated for brain cancer. Katie has never met her grandmother, Marly's mother, Winnie. But Marly and Winnie have been estranged for years and confronting the past for each of them is painful. The homecoming is bittersweet, but revisiting the conflict between them is crucial if Marly and her mother are ever to find the bond they shared before Marly left Dreyerville.
To complicate matters, living next door to Winnie is handsome sheriff and widower Reed Bennett, and his son, Ham, who is close to Katie's age. Ham and Katie become fast friends, while their parents find their attraction to one another going deeper than mere friendship. But Marly's time in Dreyerville is limited and risking her heart isn't something she's willing to do.
As the days slip past, and though she tries to avoid it, Marly and Reed become more deeply involved. Can she risk loving the handsome sheriff and give up the the futer she worked so hard to forge for herself and her daughter? Can she make a life in Dreyerville after what happened all those years ago?Will Marly finally realize that her true destiny and ultimate happiness lie in coming to terms with her past?

To learn more about their author, Kat Martin,
visit: www.Katmartin.com
To enter into a contest to win a beautiful silver lock,
check out Kat's Contest Page!