Hello everyone!
I was reading Kate Douglas' newsletter and found a note about Delilah's
Save the Gallantry Series Campaign
. Since part of running an author means supporting published and non-published authors alike, I thought that this was a cause worth taking up. While I cannot speak for the contest (it is solely your choice as a reader to enter), I can speak for the fact that series die all the time and it can be quite a sad thing. Clicking on the above image will take you directly to Delilah's website.
The following is a reprint from her June 25th Blog: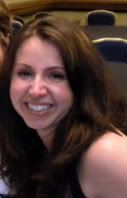 When I was in high school, I had a dream. I was going to be the next Stephen King. Heh. Yeah. Stay with me. Please. I knew my ideas were fabulous and I knew all it would take is for an editor to look at it and they would offer me up the moon and the stars and best of all, a contract. I had my girlfriends read everything I wrote. And they kept telling me, "This is fabulous! It's SO funny! Hilarious!" Seeing it really wasn't supposed to BE funny, I immediately changed course realizing I actually had a better handle on being funny than scary. I also figured adding a romance into it would even make it better since that is what I loved to read.
I then entered college as an English major. I was going to be teacher and write during the summers. Even then I was a smart girl who knew I wasn't going to make jack and that I needed a job to support the "creative" one. Throughout all of college I wrote historical romances. One right after another. And kept submitting. And submitting. And submitting. And kept getting rejected and rejected and rejected. In the meantime, I got married. I had two kids. I joined RWA. I got critique partners. I did honed and honed and honed the crap out of my writing. And kept writing and getting rejected. I eventually racked up over 200 rejections and had written over 40 books in those 11 years of trying to get published.
When I finally sold my first historical romance,
Mistress of Pleasure
, and my second book,
Lord of Pleasure
, I was beside myself. It didn't feel real. To FINALLY arrive at a destination I had been traveling toward for 11 long years seemed like a mirage. Which fortunately, I quickly snapped out of. Because after all, most of my friends are all published and unpublished writers and the stories they all have told me throughout the years made me realize I had to fight with fists up for myself every step of the way. I knew publishers did little to no promotion for their authors, so I spearheaded my own promo, ready to be more than just an author. And even though I was budgeting very well and spending countless hours networking and promoting on websites and blogs, doing tons for free, I still ended up spending $7,000 on my first book. Which was way more than my advance. But hey, every business starts in the red. Right?
Then the reviews started coming in about my series set in 1830 London England about a school that educates men on the topic of love and seduction. People loved it! Wow. It got nominated for awards. Wow. Readers are e-mailing me raving. Wow. Readers from France, Austria, Poland, South Africa and from all over the U.S and the world. Wow. It just kept getting better and better. I was beginning to feel as if every penny I spent was all worth it (even though my family and I weren't going on any vacations and were eating out of cans). Because all that mattered was that my publisher loved me and my readers loved my series.
Come contract time, I'm ready for whatever they wanna throw at me. Or so I thought.
Mistress of Pleasure
, though completely sold out and unavailable anywhere (unless it's a used copy, some going for a ridiculous amount of $40.00), hadn't done as well as my publisher had hoped. So without waiting for the second book to come out to see if the series was even worth saving, I get a rejection from my own editor citing lack of sales.
I have to say this rejection felt more personal than any of the other two hundred and some rejections I'd received. Because it was no longer "Your book isn't good enough" it became "Your sales aren't good enough." Since when is an author supposed to be a market guru AND a fabulous writer? Eck.
I love this series. The men in it make me laugh and it broke my heart to think that my readers will never get a chance to read about Lord Brayton, my glorious male virgin. The only alpha virgin I ever plan to write about. Then I realized something, why I am letting a publisher decide what is worth holding on to? Shouldn't that be a reader's job?
Ah. Herein lies the purpose of my post. I am challenging everyone, be they readers or writers to help me do something that's never been done before. Save a series from a death sentence given by a publisher. Can it be done? Who knows. But I eat challenges for breakfast and I hope you do to. Please join me in saving my series. Come August 4th, tell everyone you know (yes, even you're 72 year old grandfather) to buy the book,
Lord of Pleasure
. In doing so, you'll have a chance to win one of three $50 Visa Gift Cards. How? Check out my website for details at http://www.delilahmarvelle.com/
That said, thank you for all the support and love everyone has already shown me. Feel free to post and repost this to everyone under the moon and the stars. To all you readers out there, thank you for supporting us writers. To all you writers out there, don't ever give up on your writing. The moment you do, you give up on yourself. Which is why I'm not giving up on my series.
[Here's what you'll find on her website, if you click on the same image I have above:]
Despite being sold out of my first print run for my debut book,
Mistress of Pleasure
, my publisher will not be finishing the School of Gallantry series. As a result, I am looking to do one last push for the second book in the series,
Lord of Pleasure
, in the hopes that this series can be saved by another publisher who will see more promise in the series. Lord Caldwell, Lord Banfield and Lord Brayton (yes, the virgin) have yet to have their stories told.
I'm hoping everyone can help by blogging, pitching, sending out newsletters, telling their brothers and sisters, ANYONE to buy the book when it comes out August 4th. It is a simple way of announcing that this series does matter. I am working on a new series, which I hope to unveil soon, however, my heart still lies with the School of Gallantry.
SPECIAL CONTEST: From August 4 until August 28, anyone who e-mails me at Delilah@DelilahMarvelle.com with the School's quote from Lesson 27 found in the book
Lord of Pleasure
, will be entered to win one of three $50 Visa Cards. Winners will be contacted via e-mail by September 10th.
Cheers and much love,
Delilah Marvelle
Thanks so much to Margay who graciously gave me her blog day when I mentioned this campaign. Very cool Margay! You are a peach!