I wasn't sure what I was going to blog about today, but an email "conversation" gave me the inspiration for this post.
I have liked actors and sports figures before, but I've never really been rocked to my core all that often. In fact, it's a rare occasion. I can only recall a couple of times when I've been rocked to my core by a celebrity or athlete that has stood the test of time. Yes, I've fallen in love characters like Legolas and Aragorn, but not so much on the actors themselves. Not to any extremes anyway. I've also liked the way some athletes have played, but again, I've never really had one rock me to my core, until fairly recently.
First guy to totally rock my world? Harrison Ford, but sadly, it faded. I love his acting, but I wouldn't say that he really rocked me to my core, but I was naive enough to think he did at one time.
How do I know he didn't really rock my world?
Well, this is where the first real man to rock my world comes in. I loved the Norwegian band A-ha when I first discovered them in 1984. That video was really cool and Morten Harket was such a hottie!
In fact, I still do love their stuff. When I can sing a song as odd as "Where looking for the Whales," from Scoundrel Days (1986) almost by heart to this day, it's more than an infatuation.
I may not have actually seen them in concert yet, but with pictures like this in all the magazines, I didn't need to, until now.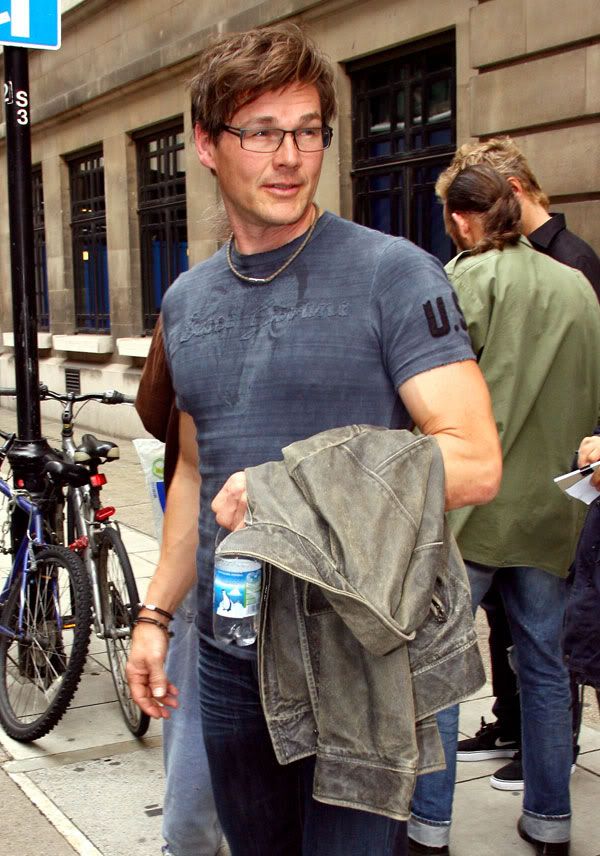 I plan on going to their next USA tour in May of 2010, before they retire. I seriously hope they come to Milwaukee, so I don't have to travel. But it wasn't just his abs and sexy accent that caught me.
There was always something about his music and his voice that got to me on a subatomic level. That's still the case today. Of course, Morten Harket looks so good that he makes glasses look sexy!
While he specifically has never really been the basis for a hero yet, there's a high chance he will be, especially since I am really spreading my writing wings these days!
Of course, I had to save the best for last. Here is the only other man (other than my husband) to rock my world. The other shocking thing for me was that he is a professional athlete. Okay, I've admired several athletes for their talent in their respective sports, but I've never been one to drool, until the year the Milwaukee Bucks drafted Andrew Bogut, the 7-foot tall Croatian center from Australia!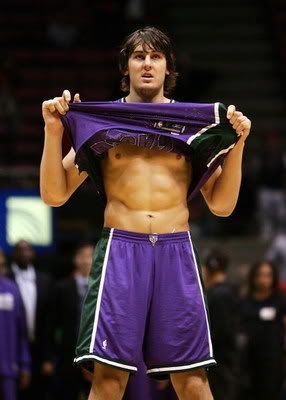 Yeah, as you'll soon figure out, I've had it bad since draft day, and it wasn't just his body or his looks that first attracted me (but he is oh so hot and well...mmmmm...), but the vibes of potential that surrounded him. Some people were reluctant about him, but I could just see the potential floating around him like a cloud and I was excited because it seemed as though we would have a decent center for the first time in a long time. He may have been injured, but as far as I am concerned, he's been an awesome acquisition.
Since we've had him for a few years now and he has some different looks, I searched and searched for some images that best represented his style, and I found some great ones. However, this one here is one that I just found, which only increases the drool factor! Oh those abs! And did I mention he's 7 feet tall? Oh, and he's built and very agile! It's magic to see him flying through the air to see him dunk the ball in the net! As a rule, even if it irritates the hubby to no end, all Bogut dunks are replayed a minimum of 3 times! Yay for the DVR! Thank you to the one who posted this shot!
Okay, I feel I must move on before my drool shorts out the laptop! Isn't it supposed to be fall? It seems rather hot in here! I guess I need to turn on the AC!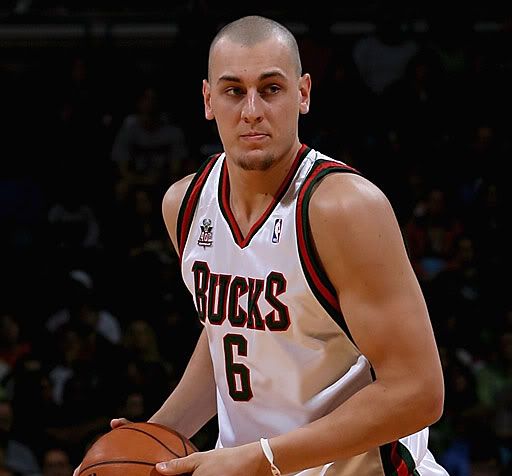 For fun, here are a few more pics to give you a glimpse of the personality of Andrew Bogut. Every off season, he travels home to Australia and during one such trip home, he came back with a new look, a shaved head with a tiny pony-tail coming from the back of his head. Now, he didn't keep it very long, because of all the flack he received, but it did give us some entertainment and he was quite entertaining to watch. Ooh, look at those strong arms...
Eventually, he grew his hair out. It isn't just his court presence that I appreciate, but his off the court sense of style!

Very Sporty!

In this next one, it was winter. He wore this suit to have a bit of fun! It caused quite the media stir because, well, you just don't
wear white after Labor Day or before Memorial Day!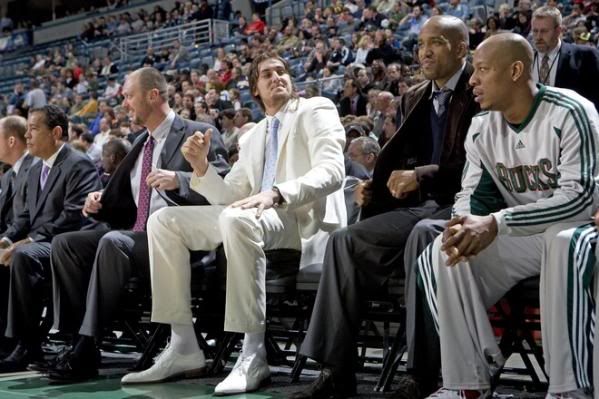 Very Humorous!

In his defense, it was considered summer in Australia.

My characters of Drake and Brandon were somewhat inspired by him, but not completely.