Blood Tax, Protectors and College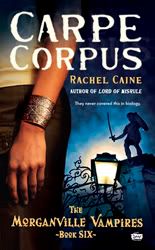 Yesterday I found myself doing the dance of joy because I'd finally finished Book 6 of Rachel Caine's Morganville Vampires Series. I started the series on October 30th, and have been under thrall ever since. I literally could not do anything else but read. The thrall was so bad that I found myself reading every chance I got - while watching TV shows (which is why I still haven't watched last week's Castle); while in the car; while sitting at the Bradley Center waiting for Bucks games to start, during half-time and during time-outs if I felt I could get away with it (as part of Bogut's Squad 6, I have certain obligations to be a loud, cheering fan during the games). I still don't know how I managed to put the books down long enough to shower, cook or get dishes done, although these past two weeks I haven't been doing much of any of that. As I said, under the thrall of the Morganville Vampires.
What's so great about this series?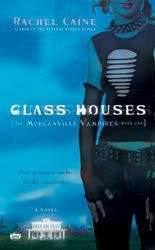 Well, it's different, very different from all of the other vampire stuff that's out there. In most cases, vampires hide themselves from humans and it's usually a vampires against humans kind of situation with the occasional human/vamp love story. In the case of Morganville, it's a community of vampires and humans working together, sort of.
Basically, the vampires control the city and many of the older vamps give the humans what is called "protection". Think of the vampires as a mob, only you don't pay money for the protection. No, that's a tax of a different color - red.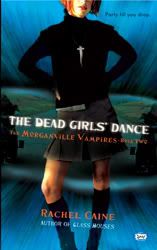 Red, as in blood. That's right, blood. Each month, all adult humans living in Morganville are required to donate blood to the Morganville Blood Bank. They even have portable units that drive around to collect "back-taxes," should you fail to make your monthly donation. The blood bank isn't just for the vamps either, it means that there is always a large supply for those humans who need it. See, the vamps want the humans to live because they know that, without the humans, they wouldn't be able to live.
There's only been one drawback to being under the protection of vampires. While being under the protection of one vampire means none of the other vamps can hurt you (unless they don't follow the rules), the protection agreement doesn't protect you from your vamp protector. Protected vamps can do anything they want to with the humans they "own." There hadn't been any safeguards in place to protect the humans from the vamps they serve, which created a vampire resistance movement.
If Morganville was a city with humans in it, how did it not get destroyed by the government?
Well, The Founder of Morganville took care of that. Anyone who left the town generally forgot what they knew of Morganville once they left it. They remembered living there, but not much more. If you did remember and did pose a threat to it, the vamps came and "took care of you," in that oh-so-subtle way that mobs take care of their own problems.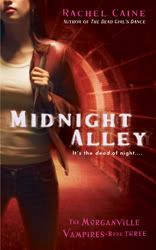 Oh, Morganville is also a college town, too! It has Texas Prairie University, or TPU for short, which is how Claire finds herself in this town. Me, I like to think of it as Toilet Paper U (sorry, can't resist that one and not sure too many of us can!). The Founder knew that keeping an influx of a sort of tourism would keep the city flowing in money, so there were rules to protect the college students. The campus grounds are off limits to the vampires except for those teachers that taught night classes or those attending classes, college students are exempt from the blood tax, and there are human cops to deal with the human problems.
Yes, Rachel Caine went to a lot of trouble to build this town. Then she added Claire Danvers, an extremely smart teenager whose mother thought that TPU was safer than MIT for her bright, 16 year old daughter because she would be closer to home.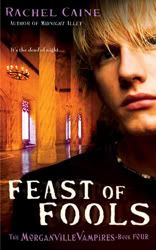 However, because she starts off on campus, Claire's biggest problem isn't the vampires, it's Monica Morrell, the mayor's daughter. She rules the roost and terrorizes as many of the student population as she can get away with, but she never prepared herself for Claire, a small girl who would fight back against her. Claire's need to fight back against Monica and her stooges almost gets Claire killed while she stays in the dorms. This situation leads Claire to find off campus housing.
It is through this search that Claire finds Eve, Shane, Michael and the Glass House. There's a something special about the Glass House, and Claire can feel it from the moment she enters the house. There's also something special about Michael too, but it's not what you or even his two roommates (Eve and Shane) suspect.
This is where Claire's adventure in Morganville begins. She doesn't just discover the secrets of the town, she discovers the importance of friendships, her brains and manages to stumble into a relationship along the way. She also attracts the attention of the most prominent vampires in the town, which lends itself a whole new set of problems for Claire.
This series has it all - Romance, mystery, suspense, murder, mutiny, fear, cooperation and crazy vampires! Rachel Caine is the master of cliff hangers and the master of tension!! Once you pick up Glass Houses, Book 1 in the Morganville Vampires series, you'll see what I mean. The cliffhanger at the end was so good, that you had to read on to find out what happened next. The Dead Girls' Dance, picks up right where Glass Houses leaves off. Midnight Alley picks up right where The Dead Girls' Dance ends, Feast of Fools continues the story from the ending point of Midnight Alley and Lord of Misrule picks up right where Feast of Fools stops.
Confused yet? If you've managed to follow along, Rachel Caine managed to carry cliffhangers successfully through the first five books of the series. Book 6, Carpe Corpus, continues the story, but not quite where Book 5 left off.

Do I recommend this series? Absolutely!
How many stars have I given them on Goodreads? 5 stars for each one!
There were laugh out loud moments, there were cheers for characters' success, there were "I can't believe that just happened!" moments and some very sad moments. All in all, there were some great victories and some bittersweet ones too. Very emotionally satisfying!
Do you need need to read them in order? Most definitely!
Book 1 - Glass Houses

Book 2 - The Dead Girls' Dance

Book 3 - Midnight Alley

Book 4 - Feast of Fools

Book 5 - Lord of Misrule

Book 6 - Carpe Corpus

Book 7 - Fade Out - Released November 2nd! Must find this one!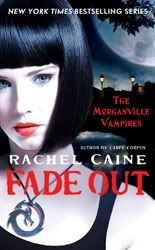 The sense of closure after Carpe Corpus is enough that the need to go on to Fade Out right away is minimal, but the desire to continue reading about Claire, Shane, Eve and Michael is just as strong!
I hope you find as much enjoyment out of the series as I have!