Weekly Book Review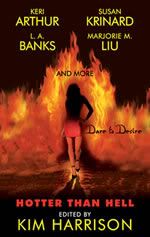 Today, I plan to post my review of Heidi Betts', "Curse of the Dragon's Tears" in the wickedly hot anthology - Hotter Than Hell. I say plan, because I want to Disc Golf this morning before it rains! Who knows, I might even talk about more than one of the stories here!
Please check back later today for the review, or
follow us on Twitter
so you'll know when I have completed the review! Thanks!