Mad, Bad and Blonde!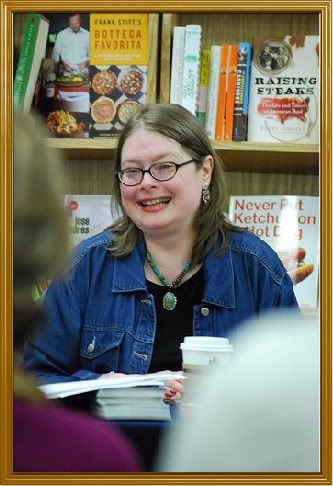 Does that describe author Cathie Linz?
I don't know her well enough to say one way or the other! However, it does happen to be the title of her latest release!
Released for sale on March 2 of this year, it's just beginning to crop up on library shelves and it will no doubt be awhile before I can get my hands on a copy!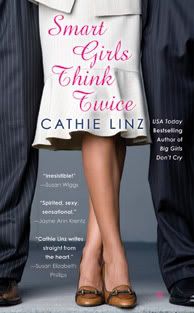 Anyway, the first time we here at Moonlight, Lace and Mayhem first heard of this book and it's hero, Caine Hunter, was last June when Cathie spent some time with us to talk about her then current release,
Smart Girls Think Twice
. I loved that story, and I am equally sure that
Mad, Bad and Blonde
will be an equally rewarding read!
In
Mad, Bad and Blonde
, Cathie leaves the town of Rock Creek for Chicago. But the journey doesn't stop there because the main character, Faith West, is mad that she's been dumped and left at the altar because she wasn't "fun enough." Well, in a very
Under the Tuscan Sun
moment [I so love that movie!], Faith opts to go on her Italian honeymoon, alone! Hey, I think I'd do the same thing if I was her!
Cathie's novels are fun to read not only because of the page-turning excitement that you'll find between the covers, but because the dialogue is fast-paced. There is never a dull moment in her stories and the dialogue keeps the story movie ahead! I guess Cathie writes by the adage, "a rolling stone gathers no moss." Well, it's not a bad adage to write by. I guarantee you that if you pick up a Cathie Linz novel, you'll laugh, you'll get mad, and you might even cry just a little if the situation calls for it, but in the end, you will enjoy the ride she takes you on!
Now that you know a little bit about Cathie's new book, let's learn a little bit about her and see how she answers our Mystic March Questions!
ME: March has a few popular dates to celebrate. Which one are you more apt to celebrate, St. Patrick's Day, or the First Day of Spring, or both and why?
CATHIE: St.Patrick's Day, but I do some spring decorations too –see the photos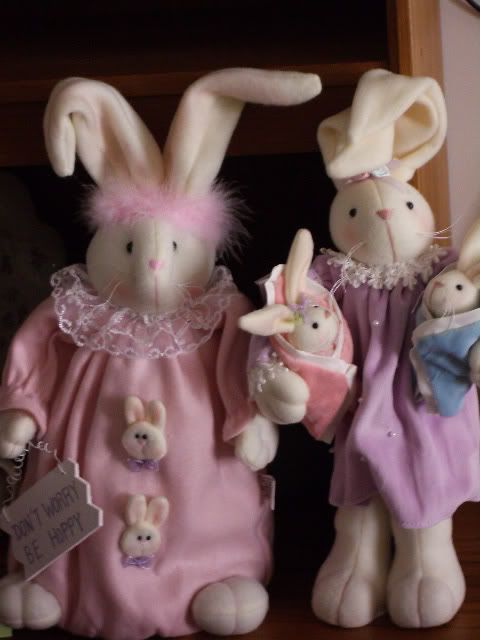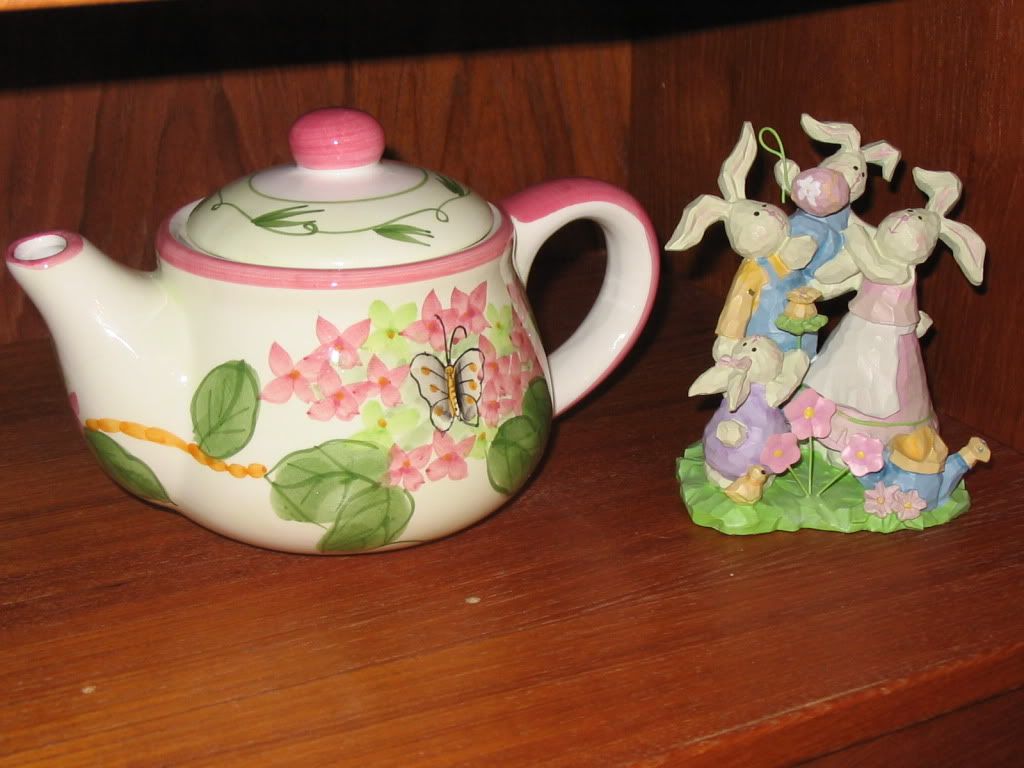 ME: Because of it's Irish heritage, St. Patrick's Day is a big party day in Wisconsin (and many other areas) in which everyone gets in on the action from free pub crawl busses to breweries making green beer/spirits and some stores selling green colored/decorated food and sweets. Does anything similar occur in your area? Even if you do not participate, please tell us what activities are going on around you. Anything you feel is unique or especially interesting?
CATHIE: In Chicago they dye the Chicago River green, which is pretty cool. And the beer commercial said we are all Chi-rish on St. Patricks Day.
ME: Do you like to decorate for spring/St. Pat's Day or is this the time of the year where your house has a break from special décor?
CATHIE: I didn't decorate this year but do sometimes.
ME: Ireland is steeped in myth, legends and lore. Do you have any favorites? Please briefly share them with us (include links to other information for interested readers).
CATHIE: One of my fave things is the music and dance – I am a huge fan of "Riverdance" and highly recommend everyone go see that!
ME: Spring is considered a time of renewal, a time of rebirth. Do you do anything "special" to commemorate this idea such as planting flowers or cleaning out your house? Please share with us your way of celebrating this time of rebirth.
CATHIE: Flowers are nice but the cats insist oN either eating them or knocking the vase over
ME: Magic is often tied into Celtic myths and legends, or at least we like to think it is. Why do you think that is? Why, in your opinion, does Ireland carry so much mystery and magic for the rest of us?
CATHIE: I think the Celts have a magical history that is unique to them. Saw some great shows on PBS about that culture including "Irish Music"
ME: If you could be any mythical or legendary Celtic creature or character, what/who would it be and why?
CATHIE: Hmmm a princess?
ME: Please tell us some of the favorite/best books you've read with Celtic myths/legends or ties in them. (They can be fact or fiction, just be sure to indicate what type of books they are in case our readers might want to check them out.)
CATHIE: I'm sorry I can't think of any at the moment.
Time to switch gears and focus on your writing:
ME: What genre is your writing considered to be? Contemporary romance Why this genre? What was the draw for you?
CATHIE: Because I love to read contemporary romances. I love writing them.
ME: If you could describe your writing with a word or phrase, what would it be? Please be creative and delve into the core of your writing to tell us what word or phrase you want readers to take with them when they've finished reading your story.
CATHIE: I write a fast-paced story that has both heart and humor. My books also involve families and community
ME: Do you prefer magical or human ingenuity for problem solutions? Does that show through in your writing? If so, how?
CATHIE: Human. In the past I did do a trilogy of bumbling fairy godmothers for Love and Laughter – TOO SEXY FOR MARRIAGE, TOO SMART FOR MARRIAGE, TOO STUBBORN TO MARRY.
ME: Who decides what you write about, you or your muse? What kind of influence do you have over your story, or is the muse always the one strumming the harp?
CATHIE: I am definitely a pantster. I have a general idea of the book and where it's going but then things happen along the way that I have no idea would be occurring.
ME: What was the character or creature that you had the most fun creating and why?
CATHIE: Too many to list! I did love the Swedish grandmother and the grumpy PI in MAD, BAD AND BLONDE. Of course I love the main characters as well – Faith is a librarian who is jilted at the altar and Caine is a former Force Recon Marine trying to clear his father's name.
ME: If you had the opportunity to meet just one of your character/creature creations in real life, who would it be and why?
CATHIE: I'd like to meet all my heroine's and heroes and consider them all to be friends. Feels like I know them.
ME: Which of your character/creature creations would you never want to meet under any circumstance and why?
CATHIE: I would never want to meet Aunt Lorraine from MAD, BAD AND BLONDE
ME: Of all the stories you wrote, which was the storyline that you had the most fun fleshing out? Why?
CATHIE: Usually the story I'm writing at the moment because it's still fresh in my mind.
ME: As writers, inspiration comes from everywhere. What, specifically, inspired your latest story, the one we're promoting here today?
CATHIE: I overheard a children's librarian at a library conference talking about how she won a shooting event that the library in Las Vegas participated in as part of the corporate events. I love writing about librarians, being a former librarian myself. I also love writing about Marines so MAD, BAD AND BLONDE was a natural.
Curious yet? Well, hang on because we've got an excerpt of
Mad, Bad and Blonde
coming up now!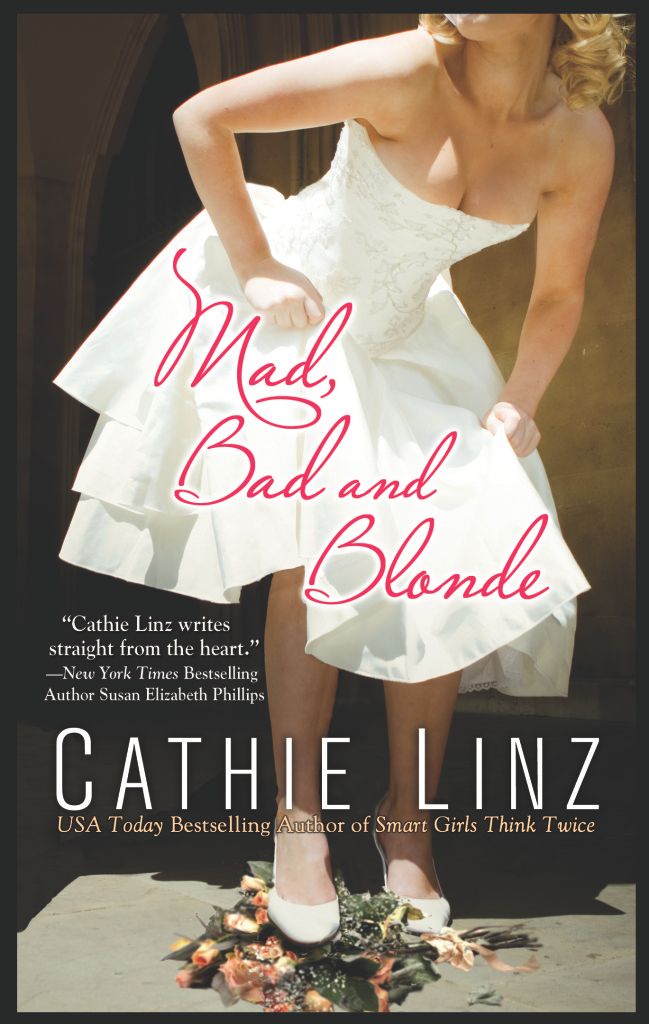 BLURB:
MAD, BAD AND BLONDE by Cathie Linz
JILTED AT THE ALTAR!
Librarian Faith West is going on her Italian honeymoon solo, but she's not staying that way for long. Does her sexy rebound man have ulterior motives? When they both return to Chicago, Faith has her hands full keeping former Force Recon Marine Caine Hunter in his place…and out of her bed!
EXCERPT: Please select a PG-13 one, thanks!
If you want to read the first chapter of MAD, BAD AND BLONDE visit my website cathielinz.com
Here is a shorter excerpt from ch. 14
"Is this surveillance on foot or are we tailing him by car?" Faith asked, swinging her backpack onto the floor in front of her.
"The car," Caine said.
"Then you really should have a more inconspicuous vehicle preferably something blue."
"Why? Is that your favorite color?"
"No it's the most common car color. I've been doing my research. Brushing up on my P.I. skills."
"This isn't meant to be a training mission."
"I don't mind training you," she said.
"That's not what I meant."
"Oh you thought you'd train me." She laughed. "I can assure you that's not necessary. You still haven't told me why you're doing this surveillance tonight. Did something happen?"
"Nolan called Fred Jr. today and asked for a meeting tonight."
"How do you know that?"
"I talked to Fred Jr. today. Met him."
"You didn't tell me you were going to do that."
"I'm telling you now."
"Where's Buddy tonight? Will he be tailing us?"
"No. He's taking your grandmother out to dinner at O'Sullivan's tonight."
"She didn't tell me that."
"I guess you don't know everything then, do you?"
"I didn't say I know everything." She almost added that she knew where to find information she didn't know, before remembering that was a librarian's line. And she was no longer a librarian.
She had checked out Buddy, however. He was a Chicago cop for twenty years as was his son and even his grandson Logan. After retiring,
Buddy opened his investigation business over two decades ago. He was seventy-eight, owned his own home, and had no major debt.
Which she supposed made him okay to take out her grandmother.
"What was your impression of Fred Jr?" Faith asked.
"A brainiac chemist following in his father's footsteps. Not as bad a pain the ass as Nolan Parker. Fred Jr. made no derogatory comments regarding my dad."
"Was he as…uh…confident as Nolan?"
"That wasn't confidence Nolan displayed. That was self aggrandizing."
"Agreed."
"A famous football coach once said empty barrels make the most noise."
"So you're a football fan as well as a Cubs fan?"
Caine eyed her suspiciously. "Why do you want to know?"
"No reason. I was just making conversation."
"We don't make conversation on surveillance."
"By 'we' are you referring to Marines or P.I's? Because I've actually had my P.I. license longer than you've had yours. Not that I'm bragging or anything."
"Right. You're just being self aggrandizing."
"I am not." She socked his arm. "Take that back."
"And you hit like a girl."
"Only when I want to. You know I'm capable of doing much worse." She shot him a look.
Got your attention now, doesn't she? For more information on this book please see her website,
www.cathielinz.com
, or
her facebook page
.
Here's all the info you need to buy the book:
Mad, Bad and Blonde
by Cathie Linz ISBN 978-0425233405 -- Berkley