Welcome Author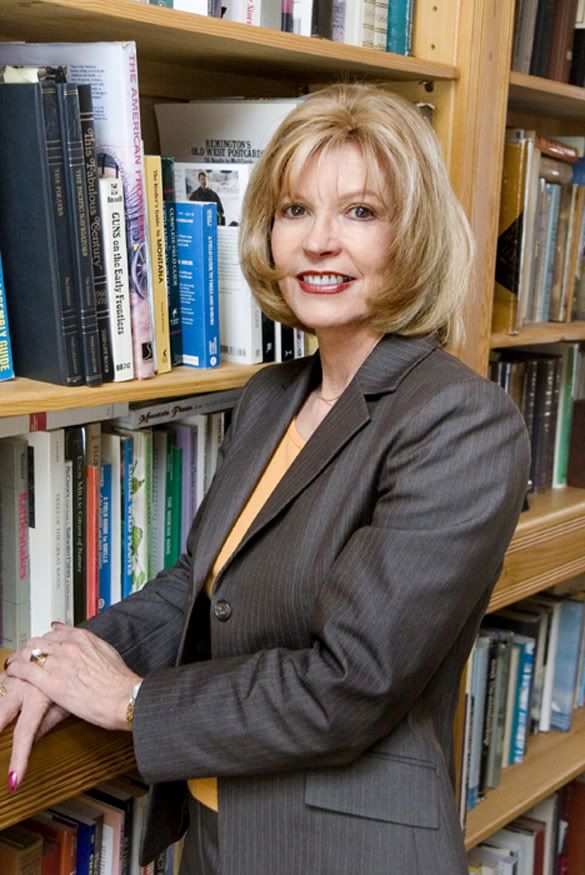 Kat Martin
!!!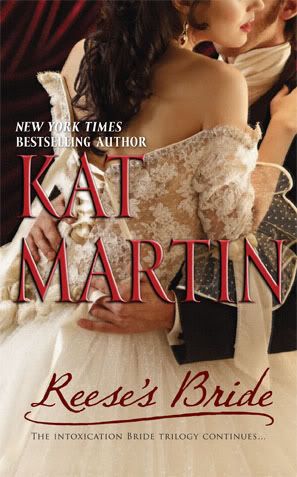 Today we welcome back author Kat Martin into the moonlight. In December, she came promoting
Reese's Bride
and I had a chance to review that one. Didn't catch it?
Click here
. She was also here promoting
The Christmas Clock
, so it's possible that you may have missed
Reese's Bride
. Did you miss my review of
Reese's Bride
? Want to check it out?
Click here
.
The only thing that could keep me from reading Rule's Bride from cover to cover was a Bucks playoff game, and that's what happened last night. While I did manage to read some of Rule's Bride last night, I wasn't able to read as much as I would have liked by now. It wasn't just any home game last night, it was game 4 in a 7 game series and the Milwaukee Bucks managed to win their two home games without their starting center Andrew Bogut (sponsor of Squad 6, which I am a member of, so I was jumping quite a bit last night as they played Seven Nation Army three times and Jump Around once). It was a huge game.
So what does that have to do with Kat Martin and Rule's Bride? Well, it is the reason I couldn't read as much as I wanted. The win was exciting and I was up for a bit partying. Hey, unfortunately I have to sleep in there somewhere, so I crashed big time and slept until almost noon today! Yikes! I'm still tired as a matter of fact, but not so tired that I couldn't read a bit more. I did manage to read some of the book during halftime and it sure wasn't disappointing me, that's for sure. I also felt that it deserved all of my attention, which I didn't have to devote to it last night, but I do today. So, I started reading when I woke up and while having "breakfast," when I remembered that I had to post my interview with Kat Martin today!
Before I get to the interview though, I wanted to delve into the book a bit. Rule is the third brother of the Dewar family, and the youngest. His brother Royal is a Duke and his brother Reese "retired" from his duties in the regiment to become a barley farmer, which Royal uses to make one of the most popular ales in London, Swansdowne Ale. Rule was the youngest and wildest, but also very kind and polite and on a mission his father asked of him before he died - cultivating an allaiance with an American company. That's how Rule came to work for Griffin Manufacturing and how he came to be in his present situation.
As Griffin made it known that he was dying, he made it clear to Rule that his last wishes were for Rule to become his daughter's husband but not consummate the marriage until she was older. Of course the marriage would work for several reasons. Not only would it protect his company from interlopers after he died, but it protected his daughter too, only she didn't quite see it that way, but relented because it was his dying wish. They were married, but our story doesn't begin there because, until she becomes of age, Rule is to manage the London branch of Griffin Manufacturing while she stays in Boston. It is apparent that neither is ready for marriage as it takes quite some time before they meet again.
You'd think the story begins after Violet's father dies, but it doesn't. She stays and learns to take over the American side of the business and falls for a man in the business, Jeffrey. She knows she cannot marry Jeffrey and sets off to London to free herself of a husband she thinks doesn't want her. After all, three years had past and Rule had yet to return to Boston.
She doesn't send word that she is on her way, she just shows up on his doorstep late one night. Surprise is a mild term for his reaction, especially when he discovers her reason for coming to London. As Rule recently decided that it was time he fulfilled his duties to Griffin, Violet decides she wants to end their farce of a marriage. He convinces her to stay 30 days to get to know him and if at the end of that time, things do not work out for them, he'll grant her the annulment she seeks.
He won't let it get that far. She's his wife and he wants it that way. She wants to wed another man, even though she still feels an attraction to Rule. Both are stubborn and usually get their way. Who will cave this time? Will Violet get what she wants? Will she still want it if Rule gives it to her? What part will Jeffrey play in all of this? Will he come to London and create a scandal?
I'm not telling! You have to read the book to find out! Stick around because after the interview, you get a sneak peek into Rule's Bride!
ME: With tax day being April 15th, we've asked all of our authors 15 questions. Speaking of taxes, Kat, are your taxes finished, or do you procrastinate with them? Do you do them yourself or do you have a taxman do them for you?
KAT: My taxes are finished--I'm a pretty timely person. My personal assistant and my tax man do them. They are pretty complicated these days.
ME: As it says, "April showers bring May flowers". What flowers do you hope to see the first thing in spring?
KAT: We get daffodils first. They should be coming up pretty soon. In the meantime, my favorite flowers are the orchids in my husband's office. They are gorgeous!
ME: Do you plant your own garden? Why or why not and where is it located?
KAT: My husband plants a very big garden. We get fresh veggies all summer. We have 25 acres here so there is plenty of room.
ME: Do you prefer plants or seeds? Does it matter where you get them, or do you have a favorite place to go? What's the name of the place and why do you prefer to go there?
KAT: I have a nice green thumb for indoor plants, but wouldn't know the first thing about planting a seed or a plant.
ME: What will you plant (or have already planted) this year and why?
KAT: Lots of stuff growing in the hothouse. Too early and cold yet to plant out in the garden.
ME: Do you have any plants that are must haves for your garden, ones that it just won't be complete without?
KAT: I love zucchini. We always have those. This year we are trying for blueberries.
ME: Have you ever considered getting involved with a local community garden? Why or why not?
KAT: I think it's a good idea but I'm too busy. Have to leave it to my hubby.
ME: For your produce, is the local grocery store just fine, or do you like to hit your local farmer's market? What is your favorite fruit or vegetable that you do like to get?
KAT: We do hit the local farmers market until our own garden is up and growing.
ME: Now that we've learned a bit more about you, let's get to your writing. What is your main genre (erotica, erotic romance, romantic suspense, etc.)? What was the draw for you?
KAT: I write Historical Romance and also Romantic Suspense. I like the change between the time-frames, which helps to keep my writing fresh. I have an historical just out (Rule's Bride) and a romantic suspense trilogy coming out in January, February, March of next year. [Ooooh! I can't wait! Love romantic suspense!]
ME: Besides your main genre we just discussed, what elements do you prefer to use in a story and why those elements over others?
KAT: I believe in a strong plot. It keeps the reader's interest, keeps them turning the pages. I like a strong driving line, which moves the plot forward.
ME: Do you prefer red roses or black roses? If so, does that show in your writing? If so, how? If roses aren't your style, what flowers are? Do they influence your writing? If so, how?
KAT: I love roses. Definitely Red. I'm a true romantic, which shows in every book I've ever written (about 50).
ME: The jury's still out on this question, so we're still asking it! - Who decides what you write about, you or your muse? What kind of influence do you have over your story, or is the muse always the one planting the seeds? How do you cultivate those seeds regardless of who plants them?
KAT: My muse is always planting seeds. I used to be four or five stories/books ahead in my mind. I am down to one or two besides the one I am writing at the time. I think my muse and I collaborate to wind up with what is hopefully and intriguing story.
ME: In your opinion, what author had the most influence on your writing? What about their writing did you find so influential and why?
KAT: A couple of writers had a vary large influence on my work. For Romance, Kathleen E. Woodiwess. She was the very best at writing heart-wrenching romance. Wilbur Smith was spellbinding as a suspense writer and he always threw in a good amount of romance.
ME: While authors can definitely influence us, inspiration can be everywhere for a writer, but specific people, places and events can inspire certain characters, personality traits or things that happen in our stories. In your current story that we're promoting here today, Rule's Bride, did any one particular person, place or event inspire you? If so who/what was it (were they), how did it/they inspire you and how is this inspiration reflected in your story?
KAT: I think London itself is always inspirational for Victorian settings. Rule and Violet's story is set in the 1860's, a fascinating time. The city itself is exciting, , the history, the lords and ladies. Story ideas seem to spring up out of the sidewalks. The city of London is like a separate character in the story.
ME: Without giving away anything pertinent to the story, tell us about the hero and heroine (s) of your story. What do they look like? How do they meet? What are their personalities – Are they comical cut-ups, are they serious or are they a mix of the two?
KAT: The hero, Rule Dewar is the youngest son of a duke. He is gorgeous, somewhat spoiled and demanding, and used to getting his way. He is a rogue where women are concerned. He has never met a woman his equal until Violet Griffin comes along. She is headstrong and courageous, smart, and not the least bit willing to put up with Rule's dictates. It's a fun clash of wills between a pair that is extremely well matched.
ME: The main characters are usually great, but sometimes, secondary and tertiary characters are known to steal the scenes. Who are the secondary/tertiary characters in your story and what do they look like? What's unique about them? What is their relationship to the hero/heroine? Have any of these gone on to become scene-stealers? If so, who and how did they do it?
KAT: I loved the secondary characters in Rule's Bride, Caroline Lockhart and Lucas Barclay. They are the best friends of the hero and heroine and I grew to like them so much their small parts in the book began to grow. Both were extremely strong willed and determined. Both had no desire for marriage and yet they couldn't resist each other. As the main story grew, so did their relationship and it was wonderful to watch (watch? Goes to show you how the characters can just take off on their own).
Excited yet? Well, there's more! Let's take a look between the covers of Rule's Bride: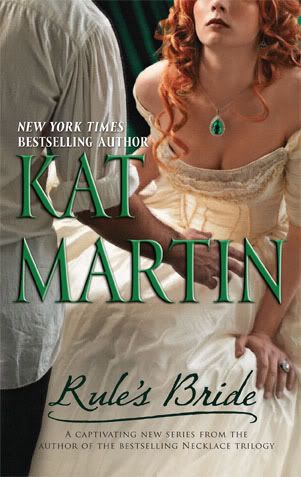 BLURB: Unrepentant rake, Rule Dewar, is living the good life in London when a surprising event occurs. The American wife he wed in a marriage of commerce shows up at his town house door. And she isn't there to consummate the marriage, as Rule is hoping now that he has seen the beauty she has become. Violet is there for an annulment!
EXCERPT: The hour was late when Rule arrived home from his gentleman's club. To his surprise, his silver-haired butler waited in the entry to greet him, his eyes red from lack of sleep.
"What is it, Hatfield? I told you not to wait up."
The butler straightened, looking more like his old self again. "You've a guest, my lord. Two of them, actually."
Rule frowned. "A guest? I'm not expecting anyone. Who is it?"
"Your wife, sir."
Silence fell. "My...my wife is here?" He hadn't seen her since the day of his arranged marriage three years ago.
Hat nodded, moving strands of the silver hair hanging over his wrinkled forehead. "Yes, my lord. Her ladyship arrived from America late this afternoon with her cousin, a Miss Caroline Lockhart."
"I see." Of course he didn't see at all and all he could think was bloody hell, what am I going to do now?
"Your wife, sir...she's waiting for you."
"Violet is...my wife is waiting for me? She is up at this hour?"
"Yes, sir, in the drawing room."
His mind was spinning, trying to sort things out. Violet was in London. He was supposed to have retrieved her years ago. Instead, she had been forced to cross the Atlantic on her own. He started walking toward the drawing room, wide awake now, no longer feeling the least effects of the alcohol he had consumed.
As he strode into the room, she sat bolt upright, her eyes bright and blinking, glanced round as if to recall where she was, straightened and shoved to her feet. She was smaller than he remembered was his first impression, petite but shapely. In truth, she was different in every way from the gangly sixteen year old he had married for financial reasons.
Except for her glorious copper hair, the likes of which he had never seen.
He groped for something to say. "Violet. I cannot believe you are here."
She gave him a chilling smile. "It took a while to reach London. But as you can see, I am here."
He couldn't seem to make himself move. "So you are."
He did move then, closing the distance between them, reaching out to take both of her hands. She wore no gloves, he noticed, and realized that aside from his chase bridal kiss on her cheek, he had never actually touched her without the barrier of some sort of clothing.
"Welcome to London," he said. "If I had known you were coming, I would have prepared a more proper greeting."
Violet withdrew her hands from his and looked him over head to foot. For the first time, it occurred to him that his cravat was undone and dangling round his neck. His collar was missing, his shirt unbuttoned and his hair slightly mussed.
Violet, on the other hand, looked...well...
Violet Griffin Dewar was beautiful.
"It must have been quite an evening," she said, those leaf green eyes he remembered taking in his dishevel.
He flushed like a schoolboy. "Not really. I stopped by to see friends and wound up playing cards at my club."
"You were gambling? I didn't realize you were a gambler."
His embarrassment faded, replaced by a hint of irritation. She had been so malleable before. "I rarely gamble. I was simply passing time."
"Yes, well, you certainly managed to do that." She glanced up at the clock, the hands pointing to the lateness of the hour, condemning him.
"I am certain you are tired," she continued. "I shall leave you to find your bed. I just wanted you to know I was here and to say that there is an important matter I wish to discuss with you in the morning."
"Yes, of course." His gaze ran over her. In the yellow glow of the lamp, he saw that in the last three years her features had softened, the sharp angles smoothed into feminine lines and curves. Her cheeks were as pale as cream and heightened by a touch of rose. A full bosom swelled above her tiny waist. Her neck was slender and as graceful as her hands.
A shot of desire slid through him. He had dreaded the day he would be forced to make his marriage real, had put off his duties for as long as he dared.
Now as he looked at Violet's full pink lips, glimpsed the tops of her creamy breasts, he imagined what it would be like to make this petite woman his wife in truth, and began to see marriage in a whole different light.
"I'll have Hat rouse one of the chambermaids and send her in to help you undress," he said, the image making his skin feel hot.
Reality set in. God's blood, his wife had come to London! He would have to tell his family, try to explain why he had kept his marriage a secret. Rule thought of facing his two brothers and their wives--worse yet, his aunt Agatha, the matriarch of the family--and inwardly he groaned.
On the other hand, as he watched Violet collect her silk skirts and sweep gracefully from the drawing room, it occurred to him that having a woman like that in his bed might just outweigh the many disadvantages of being married.
Sound good? Like historicals but want to check out her romantic suspense novels too? Then check out her website:
www.katbooks.com