The Moonlighters Welcome Annie Alvarez
Please welcome Annie Alvarez into the Moonlight. Annie is the author of Gaia's Lust, book 5 of The Hightower Series, which was recently released by eXtasy Books. Other books written by Annie are For The Love Of Blood, Cheating Death, Dying To Live, Lustful Torment and Sessions.
Now, it's time to create a little mayhem and get to the good stuff and reveal all of Annie's deepest darkest secrets in the moonlight. LOL So, grab your favorite wicked drink, sink your teeth into something decadent, sit back, relax and enjoy getting to know Annie.
MLM: The holidays are fast approaching and things always seem to get busier during this time of year. Do you have a relaxing technique that helps you de-stress? If so, please share, because this is advice we all need!


Annie: De-stress…is that really possible? I do all the usual things that are supposed to work, but when I'm wound tight, I throw in the towel and head for the gun range. For me, the range works out all my kinks. LOL
MLM: What, if any, Thanksgiving traditions (decorating, gathering with friends and family for a meal, etc.) do you have?


Annie: Thanksgiving tradition has taken on a new meaning since I've been accepted into my partner's life. She has a VERY large family that likes to "get together" every year. About a hundred or so, no exaggerations, family members cram into her aunt's little house to eat, watch the football game or take the dreaded 2-mile walk.
MLM: What was your most memorable Thanksgiving and why?

Annie: Going to the first Thanksgiving dinner with my partner's family. Talk about overwhelmed! We were all sardines packed into a little house and I loved it! Everyone welcomed me and made me feel like I was part of the family. They even put me to work that day.
MLM: What is a must have food at your Thanksgiving dinner table?


Annie: Well, there's actually 4-5 buffet style tables set up in the garage. The first always has the meats. The usual smoked turkey, fried turkey, baked turkey, ham, ribs, sausage and deer meat if the uncles or cousins were lucky during hunting season. The second and third tables consist of the side dishes. Broccoli cheese casseroles, beans, cranberry something or another, rice dishes, salads and a few "experimental" dishes someone had to try. The best table is always the last. Dessert. Homemade Ice cream, pudding, carrot cake, triple-suicide-chocolate-cake, banana pudding and anything else that might remotely sound like dessert. The rule of thumb is that there is no must have food, everyone brings a dish, so we end up with a large assortment.
MLM: Tell us 3 things you are thankful for this year, please
.
Annie: I am thankful that my 94-year-old grandma is still with us. Earlier this year, she put us through a big-time scare. She means the world to me.
With the economy the way that it is, I am thankful that we have a roof our heads and food on the table. I know it sounds cliché, but I actually know a few people who have lost everything. It drives home the fact that no one is immune to these trying times.
Last and certainly not least, I am thankful for the family and friends that I have and I do include eXtasy books in that list. Seriously, without all the love and support I have been blessed with, I know I wouldn't be where I am today.
MLM: Just for fun, if you could be among any of the original members of that first Thanksgiving, who would it be, the Pilgrims or the Wampanoag (Native Americans)? Why?
Annie: Well, let's see…with the Native American Indians, of course! Why? Have you seen the garb that the Pilgrim women used to dress in? Yeah, no. Not happening here! The truth is that I have a great respect for the American Indian beliefs. I think it's a lot healthier than our current philosophy.
MLM: NaNo is popular among authors each November. Maybe it's so popular because it helps self-motivate so many of us during the encroaching holidays. Did you commit to NaNo this year? If yes, do you have any advice how to make NaNo a success? If no, what was your driving motivation to stay strong and avoid the month I've deemed "crazy NaNo"?


Annie: I've heard of other authors mentioning NaNo, but it's not something I've been interested in doing. I have a writing routine that works well. I sit down every day and I write! Whether I write a single word, a sentence, a paragraph, a page or 100 pages, I write. I don't allow anything to dictate my writing. I guess I'm like NIKE that way – I Just Do It!
MLM: Swashbuckling pirates like Johnny Depp are sexy—Argh!—but e-pirates are not! How do you handle e-pirates in your writing world? Do you have any advice or wish to share any experience with other writers? Anything you wish to say to e-pirates in general?


Annie: Wow! That's a loaded topic! I don't want to sound like everyone else because eventually all you end up hearing is blah, blah, blah. But, I will say this, theft, whether it's on the internet or in a store is still stealing and it's NOT cool. When I was at the bookstore the other day, I heard a couple of grown women talking how they frequent a known internet pirate site. After working off the initial shock. I approached them and asked them one question. How would you like it, if after spending all week at work, I showed up and took your paycheck? Both of the women replied that they would have me arrested. When I explained that they were basically doing the same thing when they visited the pirate site, they were appalled. Go Figure! It's amazing to me that people don't put e-pirating and stealing together. And that's all I'll say about that. :0)
MLM: Now, let's get to know a little more about your writing, Annie...What genre do you write and what's the draw for you?

Annie: Erotica. Paranormal. Vampires. F/F and as of late, I written a F/F/M. The draw is a story where the only boundaries are my own imagination. First, I love vampires and I'm not afraid to admit that I've read all the Twilight books, not once, but twice. I have also stood in line to watch the midnight showing of the movies. Having said that, I have mentioned that I love vampires?
MLM: If you could describe your writing with a word or phrase, what would it be? What do you want readers to take with them when they've finished reading your story?


Annie: I'm not trying to spread any kind of global message, we get that all the time, from just about anywhere we go. I'm trying to provide adults, a form of entertainment that will not only allow them to escape the confines of their world for a little while, but perhaps encourage a stirring or two, if you know what I mean.
MLM: Imagine for a moment you're granted ONE wish with regard to your writing. It can be anything you want—besides becoming a national bestseller, because what author doesn't want that, right?—your imagination is your only limit here! What would you wish for?
Annie: I would rub the genie's bottle, close my eyes and wish that…oh, heck! I don't know. To become an inspiration for other f/f authors.
MLM: What do you dislike the most about being an author? What do you like the most about being an author?


Annie: What I like the most is that I create the world's I write about. As I said before, my imagination is my only boundary. What I dislike the most? Having to promote myself. I'm just not a good sales person.
MLM: Who decides what you write about, you or your muse? What kind of influence do you have over your story, or is the muse always the one basting the turkey?


Annie: Hahaha! I think it's a collaboration between us. Wait! My muse wants me to inform you that I have nothing to do with the actual story except for typing it.
MLM: Have you ever based a character on a real-life person? If so, why? Was it simply to immortalize them or was there more to it than that? If you can, tell us who this person was without revealing their identity! We're all curious here!

Annie: Nope. I can say that none of the stubborn, cool-headedness, and humor resembles any one very close to me. Do you believe me?
MLM: What character did you have the most fun creating and why?


Annie: It's a toss up between Tamara Hightower and Izzy. I love Tamara's calmness; nothing seems to faze her. She handles everything with an air of authority and then there's Izzy who is full of life and has a natural stubborn streak that allows her to find a way around the Clan's laws.
MLM: If you had the opportunity to meet just one of your characters in real life, who would it be and why? Which of your characters would you never want to meet under any circumstance and why?


Annie: Why only one? That's just not fair! Okay, fine, Tamara it is. Why? Because I see her as a Selena from Underworld and who wouldn't want to meet her? The one I would stay away from is…drum roll, please…Celeste! She's so conniving (in a bad way) that she scares me!
MLM: Thanks so much for joining us, Annie! It's been a treat getting to know you better!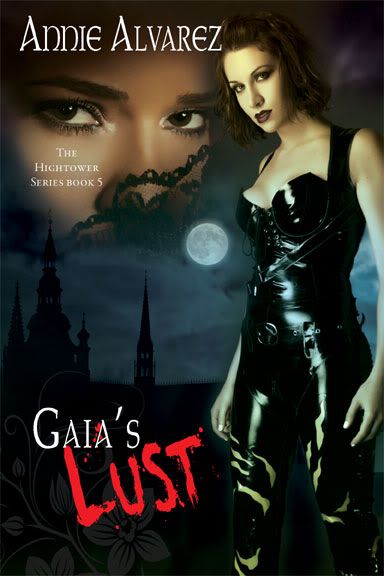 BLURB
:
Unruly magic. A pregnancy that only the Gods can create. A surprise visit from a long lost relative. Claiming collars, Royal Mages and a new and totally different world. So many things have happened in a mere 72-hour period.
It is no wonder that I must question my actions before I help Izzy escape from a world that has perfected enslaving our kind—vampires. May the Gods stake me now, for I will destroy the many to save the one.
EXCERPT
:
I heard the words and fell back against the mattress, my arms spread out as if someone crucified me. Someone stake me now. I wasn't ready to be a full time parent. I learned that painful lesson after Joan's High Priestess trapped me in a roomful of innocent children and called forth my hunger. It was a miracle that I hadn't slaughtered them. Instead of allowing my true nature to rule me, I dug my fangs deep into my own shoulder and drank. Children made me weak. I still had the scar to prove it.
"Did you hear me?" Layla egged on.
"Yes." I sighed. "I'm contemplating my death."
"Oh, don't be so dramatic." Layla chuckled as she floated above me. "Besides having Izzy around, tending to a little girl would do you some good."
"Peachy, another set of working ovaries," I mumbled. "The PMS alone may kill me."
"When the time is right, it shall be." A sadistic smile slowly crept across her face.
I knew Layla, the Vampire Goddess, but I knew Layla, my ex-lover better, well enough to know she toyed with me. "Is there ever a right time to have a child?"
"Of course." An evil sparkle shone in her eyes.
"But one must first be pregnant."
"She's not pregnant?" My voice cracked in a moment of relief.
Layla momentarily disappeared and then reappeared at the foot of the bed. I sat up, waiting for an answer.
"We were so good together." She gently caressed my leg.
"Oh, no." I moved away from her touch. "Don't change the subject."
For a moment, she looked hurt that I would deny her my touch, and I felt obliged to comfort her. "We decided we were better friends than lovers and…" I paused, not sure my words would consol her. "Sometimes friends don't let friends touch them."
She shrugged and smiled. "You are too trusting of your
human
lover."
Website:
http://www.anniealvarez.net
Buy Link:
http://www.extasybooks.net/ebjmsite/index.php
or fell free to visit my webpage
http://anniealvarez.net/img/purchase.html
to find other online retailers who carry my books.
Other places Annie can be found on the world wide web:
http://naughtylittlevamp.blogspot.com
http://www.facebook.com/AnnieAlvarez
http://twitter.com/AnnieAlvarez
http://www.myspace.com/anniesreality