Special Guest:
Stacey Kennedy
Today, I have a special guest. Please welcome Stacey Kennedy, author of Everlasting Bite!
Werewolves, Why Do
We Love Them?
Werewolves, why do we love them? Gosh, why don't we should be the question. They're powerful, beautiful and loyal.
Knowing not much about them, it was quite a journey to learn all their special little traits as I did my research for An Everlasting Bite. How they're protective, loving, monogamous, but one trait stood out from the rest―their playful nature.
When we think of werewolves and how they're portrayed in stories it's usually through their dominant side. Yet in real life, wolves are quite the opposite unless provoked. Which is exactly why I dedicated a whole scene to the silly side of the wolf―below is a snippet from An Everlasting Bite.
Suddenly, he moved faster―lengthened his stride.
Oh crap! He was only humoring her that she could out run him. Before she knew it, he was behind her and gave her backside a little nibble. She skidded to a halt and glanced behind her. He rested, head down and rump in the air, tail wagging.
The wolf within her knew exactly what to do. She lunged toward him. He jumped out of the way to rest in the same position and waited for her attack. Even in his wolf form, his eyes were so amused. He enjoyed this and so did she.
He growled, the sound rumbled through the air as he called her forward. She pounced again, but this time she ended up right on her butt as he maneuvered away from her.
Determined, she crouched down in the position he displayed―the declaration of an attack. She lunged forward. This time he let her. When she collided with him, they rolled around within the leaves and dirt, nibbling at each other.
After a final tumble, she jumped away. When she met his gaze, his eyes were smiling. She couldn't deny how fun this was. As wolves, this was happiness. She'd needed this. Just silly fun. No danger, only them.
Blurb of An Everlasting Bite (Releases November 15, 2010—Liquid Silver Books)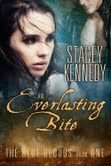 Love is born between strangers, yet built upon a bond soul deep―one Alpha's vow to protect his mate from looming danger, all the while, mending her soul and stirring her wolfish desires.
A vicious werewolf attack in Plymouth, Minnesota leaves a young woman violated, bitten and now, transformed into werewolf. But Rynn Murphy doesn't have to face this transformation alone—she has her mate by her side. And the charming Briggs―Beta to the Patriarch, Valor―is eager to ease her into this new life and mend her battered soul.
With only weeks to adjust to her new fur, Rynn, follows Briggs while he assists in locating the daughter of the Montana's Alpha, who was abducted from her home. But this journey is not without danger. And soon, they discover the ones who have taken this young wolf do not want her found and will stop at nothing to keep her hidden. Or so it may seem, as bodies begin to drop around them, the murderous attempts start to appear more as a hit than a smoke screen—leaving only one question, who is the intended target…
PRAISE FOR THE WILLOW
RT Book Reviews
"…Kennedy has created a world that readers will want to visit again and again!" Dawn Crowne
PRAISE FOR THE WICKED
Bitten by Paranormal Romance
"Do you love magic, dominant men, adventure, humor, evil villains and a talking cat? Well here is an excellent book for you to try." Laurie
PRAISE OF A DEADLY WHISPER
Happily Ever After Reviews
The readers will find themselves snickering and crying with the characters. I highly recommend this book. Read it, go get it right away. " Hunter