Hey there everyone!


Currently, I am reading Hot Stuff and I am listening to Cross My Heart by Carly Phillips. Let me tell you, this is another fabulous author! Hot Stuff is the first of three novels about three sisters (Annabelle, Sophie and Micki) who are forced to live their bachelor uncle when they are young because their parents are killed in a plane crash in the Andes. While I would love to be able to read more about their uncle, the story really begins when the girls have actually grown up.

What caught me was the following exchange in the Prologue:

The youngest, whose name he thought was Michelle, bent down and picked the paper up off the floor. Before she tossed it into the trash, Yank caught sight of white panties beneath her short dress.

"Well, I'll be damned. You've got a bow on your butt," he muttered aloud.

His niece turned, "You have a foul mouth, Uncle Yack."

"That's Yank and you're darned right I do. Any of you got a problem with that?" he asked all three girls.

.....

"If you can curse, does that mean I get to do what I want, too?" The youngest faced him with hands on hips, a determined tilt to her chin.

She obviously had gumption. "That depends, what do you want to do?"

"Ditch the dress!"


***end of excerpt***
That little exchange had me hooked not only on the trilogy, but on the author too! She obviously has a great sense of humor which is evident throughout this book. I can't wait to read the other two.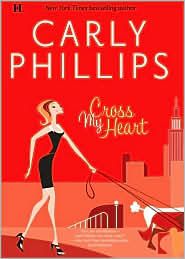 Cross My Heart
is a book that demonstrates the range of her talent. It's going to be interesting to see how this story turns out. This book focuses on three children who met at a foster home when they were young and what happened to them as a result of something they did when they were 17. It's quite interesting so far. It makes for a nice audiobook!
I discovered Carly at the same place I discovered Julie Leto, on
Plot Monkeys
. By searching through her website, I have found that she is very photogenic too, so be prepared ladies!
Carly is definitely a woman who makes wearing glasses sexy! And yet, one more reason to pick up any of her books!!!!
If you're doing the same thing I am right now, thinking that she reminds you of someone, but you just can't figure out who, just wait. This one will blow you away, especially if you haven't seen it yet....
For fun and mayhem.....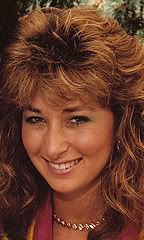 Young Carly (left) and Jennifer Grey (right, from Dirty Dancing)
Talk about using your assets! Way to go Carly!!!!

Now that I've had my fun, let's get to the real reason you're reading this blog post, Carly's blog for her new book,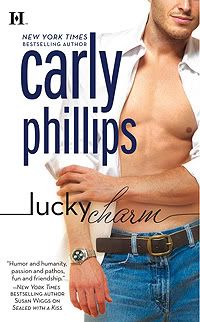 Lucky Streak
But first, a little back ground, since it is the second in a series
Lucky Charm
which is in stores now!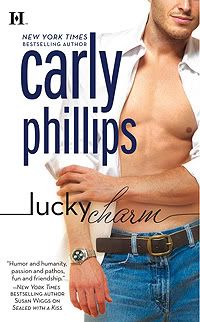 Long ago, as revenge on a Corwin who stole her son's fiancee, a witch proclaimed an eternal curse that every Corwin male who married for love would be destined to lose his love and his fortune ...
Derek thought he could outsmart the long-standing Corwin curse by breaking up with Gabrielle, his first love— and marrying someone else. Now, divorced and broke, all he has left is his teenage daughter and a healthy respect for ancient sorcery. But then Gabrielle returns, determined to defeat the curse and rekindle their passion. But will her stubborn streak and her unwavering love be the lucky charm Derek so desperately needs?
And now....Carly Phillips! Yay!!!!!
I love asking people what they think about LUCK. I always get different answers and it's so interesting to me. I guess that's what led to the LUCKY series.
Everybody fantasizes about going to Las Vegas and winning big. And certainly, we've all seen the "Whatever Happens …" TV commercials and secretly wished we were experiencing the spontaneity and frenzy of Sin City shown in these ads. Excitement and luck run rampant there. Everywhere you turn, someone or something is beckoning to you to try your LUCK!
Mike Corwin, the second Corwin cousin heads to the gambling capital for just such an experience, but will the infamous Corwin Curse that has plagued the males in his family for generations follow him? Or will he end up on a lucky streak that lasts a lifetime? This is the premise of my newest novel and the second book in my "Lucky" series,
Lucky Streak
.
And sometimes, thankfully, luck pays off for me! I definitely don't like to presume good things will happen, I like to hope. I'm afraid of jinxing something. Can you really do that? I rarely tempt fate. But it's an interesting concept, isn't it? Luck?
LUCK is fickle. And yet many of us believe. When I ask myself why, I realize it's because of HOPE. It's the possibility that Lady Luck will step in and pick us up that provides a ray of hope. LUCK causes us to play the lottery, pick up a heads up penny, read fortune cookies, and many more crazy, superstitious things. It was the concept of LUCK that drove the idea for my new LUCKY series and book two is in stores now!
Fortune hasn't been so kind, however, to the men in the Corwin family. And Mike Corwin is the latest to cross her path. Where? LAS VEGAS! The good news is that Mike, a police officer, awakens after some hard partying in Vegas $100,000 richer and married to Amber, the gorgeous woman he met the night before. The bad news: His last name is Corwin. The really bad news is that Amber's a consummate con who took his money and ran. Seems the family curse has finally hit him.
But to Amber, Mike isn't business as usual. Something about her new husband softens her steely heart, even as she betrays him. And Mike, first hell-bent on divorce, welcomes a second chance to defy the curse... and turn his run of bad fortune into a lucky streak!
Jason Corwin's story is in
Lucky Break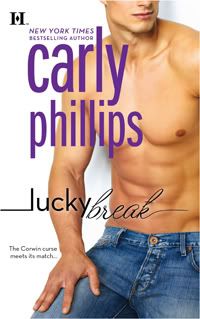 which will hit store shelves in October 2009.
I wanted to extend LUCK to my readers so I've created an on-going contest, which encompasses all three books in this series for those who read them. I call it the "Lucky You" Contest! Six lucky winners will receive a special gift! For more information on how to enter, visit:
www.carlyphillips.com
.
Still feeling LUCKY? Enter the
Lucky Streak
Reader Contest courtesy of (me) and HQN books! One winner will receive $1,000 to spend anyway they want … Again, visit
www.carlyphillips.com
for entry rules!
There's also my monthly contest (a beautiful, LUCKY necklace); the sizzling book video – you should see and hear the hero! And of course the book itself,
Lucky Streak
in stores now!
So, what do you all think of LUCK? Does it exist? Can you create your own luck? Or does luck follow you? Tell me YOUR thoughts!