Hey there everyone!

I found Brian Pratt the same way I found last week's author, Linda Dawda, from an amazon.com search of YA authors. While I cannot find his books in my local library, I am very glad I found this author because I happen to be a fan of sci-fi/fantasy stories.


When you look up Brian on his website, you'll discover that he was born in Modesto, California, graduated high school in 1985 and went straight into the Air Force where he was trained as an Avionic Specialist on the F-117A Stealth Fighter.

When Brian's tour of duty was over, he joined Pizza Hut as a delivery driver where he quickly rose to become a General Manager of a delivery unit in Edmonds, WA. You'll also learn that after a short stint as a taxi driver, he spent two years as a driving instructor and that he now writes full time.

Currently, Brian Pratt lives with his three children, Joseph, Breanna and Abigayle in Lynnwood, WA. On his website, Brian confesses that he always had a book in his hand and read every chance he got. [I think that just about every author could say the same thing. I know it was true for me, even reading during class in grade school.]

Brian is a self-published author of 14 books and has sold over 8,000 copies in both print and eBook form since his first book came out in December 2005.


What you'll also find on his website is a link to a free copy of The Unsuspecting Mage: The Morcyth Saga Book One in eBook form, which you can find by clicking here.

[I haven't had a chance to read this one yet, because I am still working on his latest book, The Adventurer's Guild, but I will be working on it soon.]

If you wish to learn more about the Morcyth Saga, check out Brian's website for a series overview and book descriptions.


Brian's latest release is called The Adventurer's Guild. I have managed to read the first 26 pages and I am already hooked. I was extremely impressed with how he laid the foundation for the town and the history he created for it. In truth, I felt that I knew enough about his work to say that he has a talent and a knack for writing a good adventure and he considers all the angles.

But don't let my opinion be the one that guides you, make that decision for yourself. Until July 25th, 2009, readers can take advantage of a wonderful special from the author, a free copy in eBook form! That's right, for the next seven days, readers will be able to download a free copy of The Adventurer's Guild! Click here for more details and be sure to use this code: ZS77B.

Enough from me though, let's here what Brian has to say:

"The Morcyth Saga continues to be my biggest seller though it is written in present tense (I know, but what did I know when I started?) The rest of my books are in past tense. It is also my roughest series, the later ones read much smoother.


My books are simply fun adventures written at about the 5th-7th grade reading level. No sex, profanity, or explicit gore. About the most graphic parts are contained in the sword battles. Younger readers would probably enjoy The Broken Key Trilogy or The Adventurer's Guild most. The Adventurer's Guild is quite amusing. The Dungeon Crawler Series is just that. The story begins with a group in an RPG (role-playing game) style dungeon complete with monsters, traps, and treasure, and they have to fight their way out. Again, nothing over a PG-13 rating.

Why did I decide to write The Morcyth Saga? I suppose the main reason was due to the many series, which were currently popular at the time. Series that in the beginning grabbed hold of me and wouldn't let go, but then over time began to lose momentum in a mire of subplots and overlong descriptive paragraphs, which I found myself skipping. When I realized I was skipping pages at a time to pass through a subplot that didn't really move the story along to get to the what I would consider the `good points' (action, adventure, actually seeing the main characters) I figured I could do better.

So I set out to write a series in which the reader followed the main character 90% of the time, action or points of interest were in every chapter, and descriptive content was down to a minimum. As a reader I knew I could create my own visualization of surroundings and figured others could to. I mean, do you really need me to go in depth as to what a teenage boy's room looks like? Doesn't `messy boy's room' bring up an instant visual? Stuff like that is what I mean. Certainly there are those who prefer grand descriptive content and a myriad of plots that takes a notepad to keep track of. To them I would say The Morcyth Saga is not for you.

As to the story itself, I was a role player decades ago in high school. And I got to thinking about how interesting it would be should a gamer be thrust into a world in which his gaming experiences could help him thrive. After all, if you take a person from our world and thrust them into a world of magic, wouldn't it be helpful to select someone who would be more amenable to the prospect of magic? Perhaps one whose very interests were along those lines? That was how James came into being, a high school senior who loves creating and then running his friends through his creation.

The Morcyth Saga and The Broken Key Trilogy are both written along gaming lines. The Morcyth Saga is about a gamer that is thrust into a world of magic while The Broken Key Trilogy is written in role-playing style."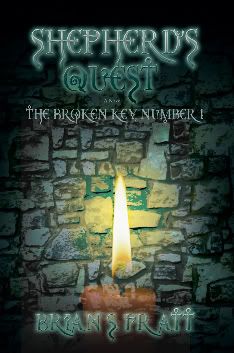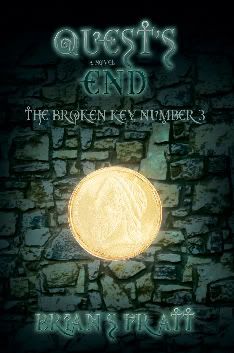 Here's a look at Brian's book list:
The Morcyth Saga
(7 books)
The Unsuspecting Mage (First book I published)
Fires of Prophecy
Warrior Priest of Dmon-Li
Trail of the Gods
The Star of Morcyth
Shades of the Past
The Mists of Sorrow

Travail of The Dark Mage
(1 of 5 completed) sequel to The Morcyth Saga
Light in the Barren Lands

The Broken Key Trilogy
(3 books)
Shepherd's Quest
Hunter of the Horde
Quest's End

The Adventurer's Guild
Jaikus and Reneeke Join the Guild

Dungeon Crawler Adventures
Underground

Qyaendri Adventures
Ring of the Or'tux
Now, let's hear some more from the author:
"Paperbacks are only available on-line through most of the major retailer. This is one of the drawbacks of being self-published. No one wants to take the chance on you. Actually, if you are over in Massachusetts, there is one bookstore there that stocks them, or at least most of them.
For info on self-publishing, go to:
click here
and scroll down about midway, you'll find it on the left edge of the page. POD means "Print-On-Demand"
When I first began the self-published journey, I used iUniverse as my publisher. Now though, I do it through other companies like Lightning Source, which if one is able, will generate more royalties.
For previews and excerpts, go to
Smashwords
and you can download the 25% of any of my books for free, except
Light in the Barren Lands
. All eBook formats are available.
Has there been anything that has helped me to write better? Yes there was. A site called FanStory helped me to refine my writing and be more aware of proper grammar. At FanStory, members submit stories or poems and others critique. Critiquing others certainly helped me to catch more mistakes in my own writing. I would recommend
FanStory.com
to any wannabe writer who sets out on the self-publishing road."
Because I played AD&D, I just had to know more about that part of his life. Here's what Brian had to say:
"The gaming side, as far as running a bonafide D&D style game, happened primarily during my high school years. I belonged to the chess club, but it was really just a bunch of us who played during lunch and on weekends. After high school, I primarily played on computer games, solo for the most part.
The part I enjoyed the most about RPG gaming was the construction of the worlds. Designing the dungeons and various campaigns through which I would take my friends. That, I suppose, transposed into my love of writing adventures in the fantasy genre that many people have embraced and follow.
My boy likes RPG games with the computer, but for the pen and paper type, no. Currently we are enjoying Fate, which is a computer game that is very much like D&D. You fight monsters, have magic, descend into a dungeon, etc. My girls have interests in other areas."
Have any questions? Feel free to ask Brian some questions when you comment! He'll check in through out the day and try to answer your questions. Be sure to thank him for the free eBooks!